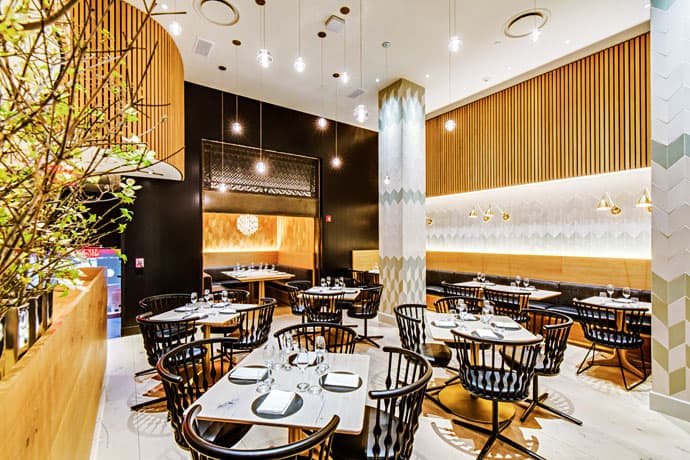 Chef Gunnar Gislason is a well-respected Nordic Chef who has gained success in numerous Iceland restaurants before moving to New York to take on the Executive Chef role of Agern. Gislason is well known in Iceland for his creative cooking style, his ability to seek out the best ingredients, and his desire to uphold traditions and classic cooking styles in his dishes. 
Located in a previously unused terminal of Grand Central Station and identified by only one small sign and no windows, Agern could easily be missed if it had not already created such a name for itself and buzz amongst NYC locals and guests alike. When you enter Agern, the aesthetic is almost spa like, and very true to its Nordic, Scandinavian roots with its pale wood, charcoal gray seats, and green wall tiles. Agern not only keeps in line with Nordic décor, but also the "New Nordic" cooking style which places a heavy emphasis on traditional cooking techniques such as curing and smoking. The restaurant also prides itself on using locally sourced ingredients which help create classic Nordic flavors. Guests of Agern can choose from a Tasting Menu or an A La Carte Dinner Menu, both of which change seasonally and based on the availability of local ingredients. When choosing the Tasting Menu, expect to enjoy dishes like Sea Scallops, Red Snapper, Lobster, Wagyu, Sea Buckthorn, and a simple Scandinavian Chocolate Bar to end the evening. Each dish is layered with unique, fresh flavors and various ingredient preparations that add to the complexity of the dishes. The A La Carte Menu offers many of the same options along with other delicious choices such as a Bitter Salad that Agern has become known for, complete with Almond Cream and Blueberries. The Tilefish with Cucumber, Dill, and Horseradish is a modern nod to a classic Nordic dish that can't be missed. The Mushroom with Brioche, though sounding simple, is made complex with various preparations of mushroom and classic, light flavors that will leave you wanting more. No matter what you choose to order, any trip to Agern will be one that you won't soon forget.
New York Times; 3 Stars, 2016
One Michelin Star, 2016
Website: www.agernrestaurant.com
Phone: 646-568-4018
Tony Lagana
Chef Tony is a 42-year veteran of the food industry and is often known by his peers as "The New Product Guru." Throughout his illustrious culinary career, he's earned several notable titles and positions including Acquisition International's "Most Influential Product Development Expert, U.S." in 2019.
In 1997, Tony also founded Culinary Systems Inc., a group of culinary consultants that assist with culinary training, restaurant start-ups, concept development, and more. Since then, Tony and his team have generated over two billion dollars in sales for their clients in restaurants, retail, and manufacturing.
The strategic, technical, and culinary skills of Tony and his team can be seen on the menus of national chains, in the portfolio of national food manufacturers, and on the grocery shelves of products produced by major retail companies.