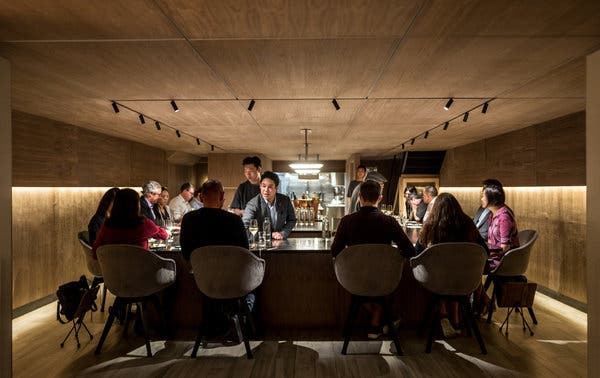 Chef Junghyun Park was raised in Seoul wherefrom his middle school years, he dreamed of being a chef.  While there he attended Kyung Hee University to study culinary science. After graduation, Chef Park moved to London, then Australia, to hone his culinary skills before returning to Seoul to serve as chef de cuisine at Jungsik. It had always been his dream to open his own restaurant so, in the summer of 2016,  he and his wife opened his first restaurant, Atoboy, in New York, focusing on modern Korean cuisine.  Two years later, they opened Atomix, still maintaining the word "ato" in their name which means "gift"  in Korean. Set in a brownstone, Atomix is a fine dining restaurant offering an intimate bar and lounge as well as a multi-course tasting menu. "The cuisine at Atomix pays respect towards the rich history of  Korean cuisine while striving to inspire the present and the future. . . . Atomix is largely inspired by traditional Korean methods and ingredients that depart from many European fine dining styles," says  Chef Park. 
Prior to the meal, guests are offered small bites and drinks in a casual group setting. They can then choose a set of chopsticks from the chef's collection and other plateware handmade by artisans in South  Korea. Prior to each course, a serve places a "flash" card in front of each diner that contains a Korean word with the name of the dish, the ingredients, and the history of the dish. A 10-course meal is varied daily. A favorite is "Jjim" which is steamed snow crab, grandada pepper, trout roe, tapioca, and white kimchi sauce. Each course comes with a "flashcard" describing what is in the item, how it is prepared, and the history of the dish. "Gui" is a grilled snapper with kohlrabi kimchi, nuruk sauce, and banchan which is seaweed, dubuskin, and wasabi. Prior to dessert, you may be offered a palate cleanser of rice wine ice cream, quince, pear, and sumac meringue. 
Because of its small, intimate setting, Atomix remained open for much of the pandemic. However, they offered a 4 course meal which could be ordered through and delivered by Tock. This allowed guests an opportunity to sample the amazing flavors of Atomix without the expense of the sit-down experience. However, the artistry, quality and service of the dining experience at Atomix are like none other you will experience. You will want to come back more than once.
Michelin 1 Star
San Pelligrino Worlds Top 50 Restaurants
Website: www.atomixnyc.com