Abstract: This blog post discusses new and popular soup recipes this Fall. It focuses on those with Turkey, Pumpkin, and Seafood as ingredients. Turkey Carcass soup is like chicken noodle soup, and Spicy turkey soup can either have Caribbean or Asian Flavors. Black Bean and Pumpkin Soup, Joumou (Haitian pumpkin soup), are popular, as are pumpkin, bacon, and apple soup. Lastly, for fish soups, the post discusses brothy seafood chowder, and salmon and potato soup.
As the temperature drops, soup becomes the go-to dish for many American families. This Autumn, there are many different soup possibilities, with food trends from Asia, Latin America, and the Caribbean making their way into American saucepans. For less adventurous eaters, there are plenty of American classics with a new twist. None of these soups require expensive ingredients, so they are perfect for every budget. Why not try something new this Fall?
Turkey Trends
As Americans are becoming more health-conscious, they are incorporating leaner meats into their soups, and turkey is a new favorite. Turkey carcass soup is popular right now, and the beauty of this recipe is that it uses the same vegetables and egg noodles as a chicken noodle soup. Carcass soup is an effective way to use leftover turkey after your holiday meal. The bones and the last of the meat will thicken the soup and give it some extra flavor.
Spicy turkey soup recipes are also making the rounds on the internet. There are many spins on this dish. Those who like Asian flavors can add snow peas, ginger root, grated carrots, rice noodles, and sriracha sauce for heat. Hot pepper lovers might also consider throwing some scotch bonnet chilies into the pot. Turkey curry soup uses apples and sweet potatoes for starch, giving it a Thanksgiving feel while adding in cayenne pepper for a slight kick. 
From Patch to Pot
Pumpkins are normally associated with decorations, but increasingly Americans are learning of their nutritional value. The squash contains plenty of vitamins and antioxidants. It is also great for weight loss with only 50 calories per cup. Pumpkin black bean soup can be prepared in multiple ways and resembles a chili with its use of tomatoes and legumes. Many recipes add cilantro and tortilla chips to give it a hint of Latin, but this is optional.
Joumou is a staple dish in Haiti, and it has become very popular in America over the past few years. This stew calls for beef cubes, pasta, cabbage, and pumpkin. The dish looks a lot like minestrone when completed, but has its own unique flavor, as lime juice is a key component.
Those yearning for comfort should try the pumpkin, bacon, and apple soup. This dish will instantly remind them of classic Fall Americana. This soup checks off all the flavor boxes. Brown sugar and diced apples give it a sweetness, and center-cut bacon adds savory. The pumpkin makes a nice base for the soup, and the cinnamon and thyme are added to make it feel like a complete holiday meal.
Fall Fish
There are many great fish soup recipes to choose from this fall. Brothy seafood chowder is perfect for those who enjoy fresh fish. The chowder's stock is made from white fish bones and white wine, and the fish is added in with leeks, Yukon potatoes, and fennel. This soup has an almost Mediterranean look, when prepared, which is fitting because it uses liberal amounts of olive oil. Many people are not big on fish, and this soup is a perfect way to ease them in, as white fish like cod, halibut, and tilapia have relatively mild flavors, and a light texture.
Clam chowder fans should try salmon and sweet potato soup this Fall. Fresh salmon filets are best, but canned salmon can work in a pinch. The soup utilizes many of the same ingredients for clam chowder, such as celery, onions, carrots, and a dairy (either half and a half or evaporated milk), but it adds dill for seasoning, accentuating the salmon's flavor. Autumn salmon chowder is a way to incorporate the casserole feel into your soup using green beans, turnips, and bacon, with parsley for seasoning.
Holiday Budget
Many Americans are facing the holiday season with uncertainty, as COVID has wreaked havoc on supply chains and employment. Making soup is a great way to deal with rising grocery bills and cut down on waste. Leftover turkey, chicken, fish, and vegetables all make excellent soup ingredients and can be livened up with a few simple spices. Whether it's pumpkin, fish, or fowl, a new soup will make your holiday season more flavorful. 
Eat Well,
Scott Bucher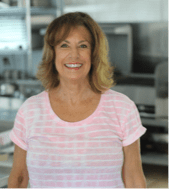 Susanne Bukey
After graduating from Framingham State College with a B.S. in Home Economics, Susanne worked in Product Development for Ground Round Restaurants, then restaurant consulting in the Boston area. Susanne worked on public relations, new concepts, and promotional menu development for Darden restaurants prior to joining the team. Susanne's current focus is on print media analysis and overseeing the editorial staff for online communications.