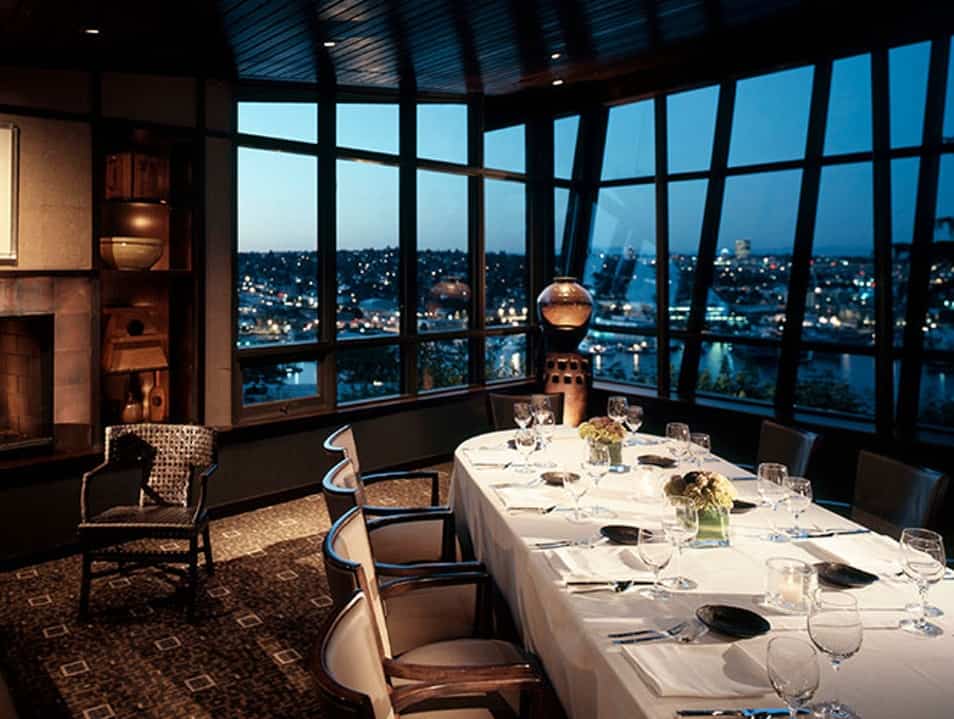 Canlis is a family business. Originally opened by Peter Canlis in 1950, the goal was to create a restaurant that felt like home. After many years, and three generations later, Mark and Brian Canlis have made it their mission to keep Canlis the same as it has been throughout the years; a restaurant where people feel as though they are family. As only the sixth Executive Chef to run the Canlis kitchen, Chef Brady Williams joined the family in 2015 and has been making his mark since. Originally from Southern California and a former professional hockey player, Chef Williams has gained the respect of the Seattle culinary scene, earning multiple local awards, and most recently, the James Beard Award for Best Chef: Northwest in 2019.
Located outside of the busy city of Seattle, Washington in a gorgeous midcentury-modern home straight out of a magazine, Canlis has been called the most elegant fine dining restaurant in all of Seattle. From the moment you arrive in the long, winding driveway with valet parking, to the impeccable service you receive immediately from the hostess to the giant glass walls overlooking the cityscape and lake, you know this will be an evening you will not soon forget. Canlis' menu offers four courses and allows you to choose each course from a small selection; rest assured that there are no bad decisions to be made here. The Canlis Salad is a great choice to start your evening; this is a classic Canlis staple paired with bacon, mint, and lemon. The Dry Aged Ribeye is a local favorite, expertly cooked, and flavored with Potato Gratin, Fermented Cabbage, and Sauce Pierre, this dish is the perfect combination of flavor and texture. For dessert, you can choose between many unique options such as the Hazelnut and Pear served with black tea cream, and turmeric-poached pear, and the Sweet Potato with Bee Pollen Garam, Yuzu Sherbet, and Cocoa Butter Cake. No matter what dishes you choose to indulge in, an evening at Canlis is
the definition of a fine dining experience.
James Beard Award, Outstanding Wine Program, 2018
James Beard Award, Best Chef: Northwest, 2019
Website: www.canlis.com
Phone: 206-283-3313
The post Canlis, Seattle, WA (Seafood) appeared first on Menu Innovator.
Tony Lagana
Chef Tony is a 42-year veteran of the food industry and is often known by his peers as "The New Product Guru." Throughout his illustrious culinary career, he's earned several notable titles and positions including Acquisition International's "Most Influential Product Development Expert, U.S." in 2019.
In 1997, Tony also founded Culinary Systems Inc., a group of culinary consultants that assist with culinary training, restaurant start-ups, concept development, and more. Since then, Tony and his team have generated over two billion dollars in sales for their clients in restaurants, retail, and manufacturing.
The strategic, technical, and culinary skills of Tony and his team can be seen on the menus of national chains, in the portfolio of national food manufacturers, and on the grocery shelves of products produced by major retail companies.