Pizza is one of the best-loved foods around the world. It is also one of the most photographed foods on the internet today on every social media platform. In the United States, we dedicate February 9 as national pizza day. With its beginnings in Italy, pizza has grown into a worldwide phenomenon. Countries have their own specialty pizzas made on unique doughs with diversified ingredients.  Pizza is also regional. For example, in the United States, pizza patrons enjoy Detroit-style, New York pizza slices, thick and square Sicilian pizza, New England Greek-style, grilled pizza, coal-fired pizza, versions are endless and all delicious.
Traditional Catalan Coca
Catalan Coca is Spain's flatbread pizza originating in Catalonia. It is rarely homemade in Spain. In addition, shops there bake them to sell by the piece from 2- to 3-foot-long ovals. Coca de recapte is the most common and traditional version found in Spanish bakeries. It is served cold. It consists of a thin bread-dough base that's topped with eggplant and roasted peppers (known as escalivada), tomatoes, and onions. Unlike pizza in the United States, cocas are made with no sauce and no cheese on top, quite a different food trend than pizza in America. Savory coca varieties can include toppings like vegetables and fish. Coca de xulla is topped with bacon and other meats. In addition, varieties are endless; some traditional others more creative. There is no bad coca. 
Spaniards also enjoy a sweet version of the coca flatbread. The sweet variety consists of flour, yeast, sugar, butter, and eggs. Lard can also be used to produce a flakier consistency. It is typically topped or filled with candied fruit, marzipan, cream, citrus rind, or pine nuts and anisette. As a result, the one steadfast rule is that the quality of the ingredients is key. With such a fundamental and traditional creation, only the best is good enough.
Foolproof and Simple
The simplicity of the dough is its' biggest plus. Just soften yeast, mix it into flour, olive oil, salt, and water to make a soft dough, then knead for about 10 minutes. Let it rise, stretch it out, top it, bake it, and you're done. The dough is best made by hand (a machine will overheat it).
In topping your own coca, consider favorite food trends and combinations. Today fresh, clean, local ingredients are preferred. Furthermore, global spices, vivid flavors, and food ingredients raise our palate's curiosity. Try Indian-style coca topped with chicken and curry, or perhaps Thai-style with peanuts, cilantro, grilled vegetables, and marinated tofu with, of course, a dash of hot chili sauce. Coca can be served for breakfast, brunch, tapas, or a snack. One of the best ways to top the flatbread is with leftovers. As a result, families look for creative ways to utilize leftover foods that everyone will like. "Pizza-style" anything will always be a winner.
Eat Well,
Susanne Bukey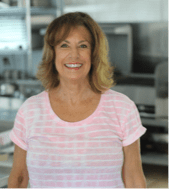 Susanne Bukey
After graduating from Framingham State College with a B.S. in Home Economics, Susanne worked in Product Development for Ground Round Restaurants, then restaurant consulting in the Boston area. Susanne worked on public relations, new concepts, and promotional menu development for Darden restaurants prior to joining the team. Susanne's current focus is on print media analysis and overseeing the editorial staff for online communications.