As the sweltering days of summer turn into the chilly days of autumn, coffee and tea lovers look forward to the fall season for their classic pumpkin lattes, apple ciders, and hot chocolates. Coffee shops, bars, and restaurants are now taking seasonal offerings beyond the classic pumpkin spice. Lounges and bars prepare their own fresh juices, purees, smoke accents and unique garnishes, no longer only using bottled and canned ingredients. Coffee shops mix their own spice blends adding more personal touches to coffees and teas.
Fall Flavors
Hard as it seems to believe, pumpkin in seasonal beverages has been famous for at least twenty years. In fact, Starbucks' pumpkin spice latte is beginning its eighteenth year in the world of coffee seasonality. Consumers' love for pumpkin has morphed into pumpkin pie ice cream, pancakes and waffles, baked goods, and candles. Baked notes are in Starbucks' latest innovation, the Apple Crisp Macchiato. The beverage is espresso with apple and brown sugar flavors topped with steamed milk and a spiced apple drizzle. It is made with apple juice, apple purée, cinnamon, and nutmeg.
As autumn arrives other flavor sensations come to mind. Maple, caramel apple, cranberry, pear, cinnamon, nutmeg, and candy corn create amazing beverages. "The Lumberjack" at Just Love Coffee in Clermont and Brandon, Florida, features maple spice, caramel, cinnamon, and can be purchased hot or cold. If you are a chai tea fan, ask for the Lumberjack as an incredibly, delectable tea. The coffee shop also offers a white candy corn latte or iced coffee. Of course, classic pumpkin is available. At Just Love Coffee, the pumpkin in the latte or iced beverage is made from real pumpkin which can't be beaten! The café also offers plant-based milk for guests looking for an alternative to cow's milk.
Chai
The name "chai" is the Hindi word for "tea", which was derived from "cha", the Chinese word for "tea". In America, the Hindi term chai means a mix of spices steeped into a tea-like beverage. The traditional ingredients of a spiced tea blend usually include black tea mixed with strong spices, like cinnamon, cardamom, cloves, ginger, and black peppercorns. This spiced tea mixture is typically brewed strong with milk and sweetened with sugar or honey. However, the milky sweet tea ordered in most coffee and tea shops today has very little in common with the origins of Indian chai. Dutch Bros Coffee is testing a Sweater Weather Chai Latte made with a chai spice blend along with cinnamon, nutmeg, a soft top, and two shots of "white coffee."
Apple Cider
Hot Cider is also the name of a cocktail at The Press Room in Chicago, where Michigan apple cider is simmered with cinnamon sticks, star anise, peppercorns, nutmeg, allspice, cloves, orange peel, and a pinch of salt. Adding Italian Tuaca to hot apple cider adds a comforting vanilla accent to the now "adult" heated beverage.
Twists on Classics
Changing the whiskey in a Manhattan to an apple-flavored whiskey liquor and using smoked bitters in the cocktail adds an autumn twist. Martinis are another favorite classic and serve as an anytime or a dessert beverage. As pumpkin tops the autumn flavor list, why not a pumpkin martini? 
The autumn and winter seasons open a new world of cocktails, wines, and pairings for holiday celebrations. The next morning, many beverage lovers reach for a screwdriver. Let's change that up to a "bloody" screwdriver! Garnish the rim of the glass in crushed chocolate cookies. To the vodka and orange juice add some orange liqueur, carrot juice, white wine, and a hit of pomegranate juice? The reasoning? We all need antioxidants! Gummy worms seem the appropriate garnish.
Wine
For wine connoisseurs, warming mulled wine offers spices of the autumn season. Red wine alone or with an apple cider, heated with orange, cloves, and cinnamon is a perfect wine to sip by the fire.  For us adults, it's only natural to be bummed that we're no longer allowed to traipse around the neighborhood on Halloween and fill a bag with candy and goodies. Pairing sweet candy corn with a non-oaky chardonnay can ease the pain of the non-trick-or -treater.  The dark fruit notes of red zinfandel pairs well with chocolate. No need to eat M&Ms by themselves! Kalimotxo is a traditional Spanish drink made with red wine and cola. Including blackberry liqueur and whole blackberries adds flavor and richness. For an adult Halloween beverage, add some eyeballs
Eat and Drink Well,
Susanne Bukey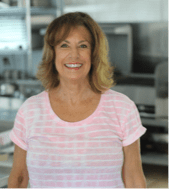 Susanne Bukey
After graduating from Framingham State College with a B.S. in Home Economics, Susanne worked in Product Development for Ground Round Restaurants, then restaurant consulting in the Boston area. Susanne worked on public relations, new concepts, and promotional menu development for Darden restaurants prior to joining the team. Susanne's current focus is on print media analysis and overseeing the editorial staff for online communications.