Handheld foods remain engraved in the palates of every culture from any age, and in every meal period. They have become a vessel for trying new taste combinations, global flavors, preparation techniques, and just about any other food industry trend. Today, With the pandemic causing dining rooms to shut down, many chefs are turning their attention from in-restaurant dining to takeout-friendly meals. Here, handheld options have never been more enticing.
Start with breakfast on the commute to work!
Tried and true bacon, eggs, and toast have a facelift with the breakfast sandwich category. Placing the combination in any type of bread/roll/flatbread is a winner for hungry commuters hurrying to work. Packed with carbs and proteins, an easy-to-eat handheld starts the day off strong while making use of current ingredients. Breakfast sales skyrocketed as more restaurants/chains implemented breakfast sandwiches. Wendy's Breakfast Baconator follows suit to its' famous Baconator hamburger. Taco Bell's Breakfast Burritos highlight the brand's iconic burritos, both securing their brand's identity. Consumer spending on QSR breakfast items last year was up 31% from five years ago. Convenience is a major growth driver, with a third of consumers ages 18-34 eating weekday breakfasts en route to another location, according to The NPD Group.
Global Creativity to Go
Americans crave global handhelds with new flavors and textures. Empanadas are a well-known soft, Latin pastry filled with savory ingredients that can be eaten for breakfast, lunch, and dinner. They also serve well as appetizers, snacks, or filled with decadent sweet fillings for desserts. When it comes to tacos, any self-respecting American city streets, and outdoor fairs have their own taco stand or truck. Gyro is like a Greek burrito. Pita bread serves well when stuffed with lamb roasted on a vertical spit. Tangy tzatziki sauce made with yogurt offers balance to the salty meat.
Turkey has a similar version called doner kebab. Kati rolls India's street food are the equivalent of a skinny burrito. They consist of a spicy mixture of meat or vegetables rolled in an Indian flatbread, (roti). In addition, the multi-faceted arepa in Columbia serves as typically a round corn cake stuffed, and/or topped with cheese or other fillings served with a hot sauce. One breakfast combination includes the arepa with a gently cooked egg in the center, a popular street snack and breakfast item in Cartagena and throughout Colombia's coastal region.
The Versatile Sandwich
In addition, some of the most exciting, dynamic, and unparalleled flavor innovation today appears sandwiched between two slices of bread. Globally inspired, nostalgic, over-the-top sandwiches offer a modern approach to new, and comforting favorites from gooey grilled cheese to re-imagined French dips. Tempesta Market in Chicago offers a different dip sandwich with its' Southside Johnny sandwich. Layers of porchetta, Brun-uusto bread cheese, broccolini, chimichurri, and pickled fennel on sourdough, are served with a rosemary broth for dipping. Crispy, fried chicken, and waffles have proven to be guest favorite handheld foods. Locality Kitchen and Bar in Colorado take the meal and converts it to a Belgian waffle fried chicken sandwich adding an egg, and unique toppings like jalapeno bacon jam, and Canadian maple syrup. Their Pulled Pork Sandwich highlights pork carnitas, apple cider slaw, root beer BBQ sauce, smoked Gouda cheese, and pickles on a toasted brioche bun.
The multi-faceted sandwich is a classic that is experiencing a revival. The need for handheld, takeout foods, and multiple-use SKU's during the pandemic has contributed to this even more. Besides the sandwich classics, new twists are being added. New protein combinations both meat and vegetable are offered. Sauces have more kick with global seasonings and sauces. Bread involves different flours, grains, herbs, and new shapes. Sandwiches and other handhelds are an approachable way for chefs to offer current food industry trends while incorporating their own innovative combinations. Looking toward the future, guest feedback from new combinations can lead to further, delicious menu development.
Eat Well,
Susanne Bukey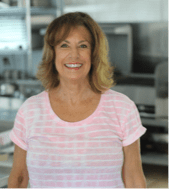 Susanne Bukey
After graduating from Framingham State College with a B.S. in Home Economics, Susanne worked in Product Development for Ground Round Restaurants, then restaurant consulting in the Boston area. Susanne worked on public relations, new concepts, and promotional menu development for Darden restaurants prior to joining the team. Susanne's current focus is on print media analysis and overseeing the editorial staff for online communications.