Media Spotlight – Menu Innovator® – For the Love of Indian Food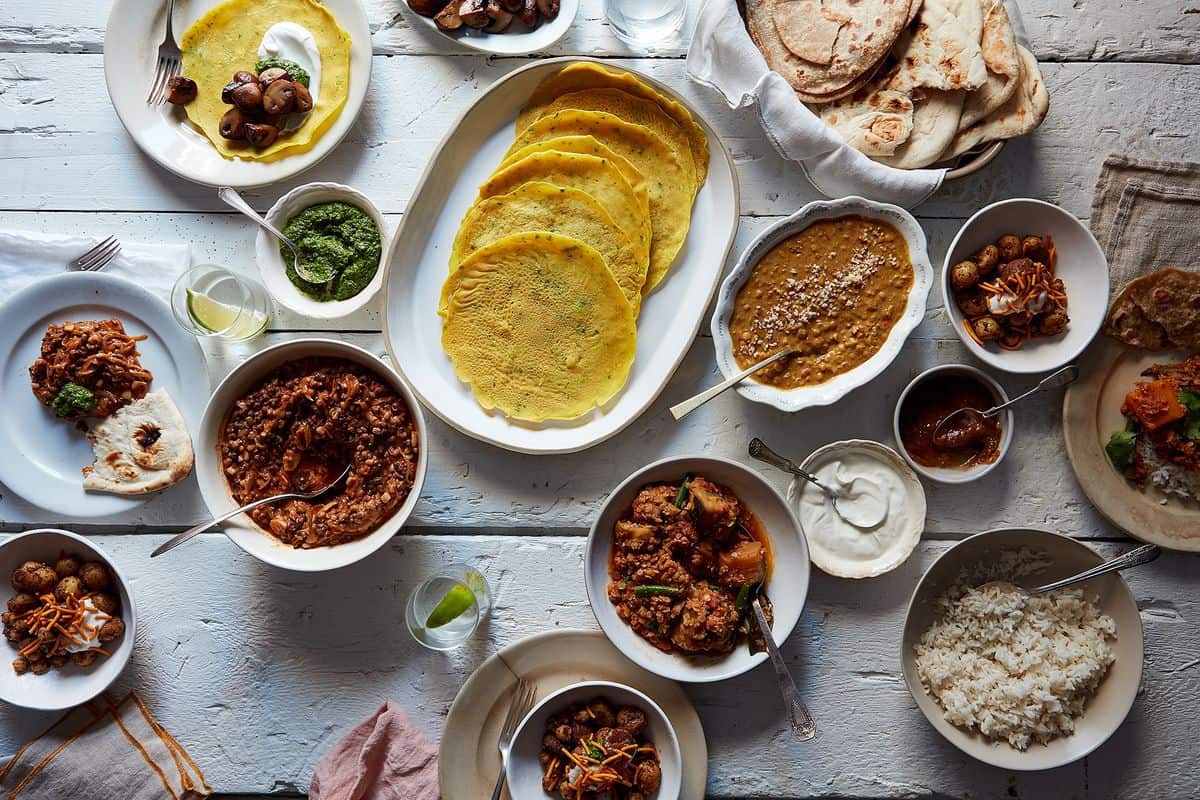 Media Spotlight – A monthly review with the freshest culinary insight! All of our spotlights are inspired by Menu Innovator®. For more information on Menu Innovator®, email tlagana@culinarysystems.com.
Top Cuisines
American
Italian
Mediterranean
Asian
Top Topics
Global Cuisine in the US
Beverages
Produce
Sustainability & The Environment
For the Love of Indian Food
"Indian cuisine uses the whole palette of flavors—spicy, sour, sweet, and hot all at the same time—making it something that wants to jump off the plate," says Floyd Cardoz of North End Grill in New York City. This is one of the many reasons consumers love Indian food! Chefs, on the other hand, gravitate towards this diverse cuisine for its ease in preparation and variety. With so many regions in India, each has its own unique version of recipes for thousands of dishes. This is the perfect opportunity to put your own unique spin on a popular fare.
Consumer interest in flavors and ingredients from India is growing, thanks in part to Indian cuisine's ability to mash-up with familiar flavors and forms—from tandoori chicken nachos to naan pizzas. Naan stands out with great crossover potential, acting as a carrier in well-loved menu items, like sandwiches, tacos and flatbreads. One of our favorite combinations is the Tandoori Chicken Poutine at the Chauhan Ale and Masala House in Nashville! They serve the dish with tandoori chicken, makhana sauce, cheese curds and masala fries.
You may be wondering how Indian food became so appealing to the mainstream audience. Indian flavors are not new to consumers, but classic Indian food was looked at as too spicy, too yellow and too soft. This feeling was even deepened by a somewhat antiquated Indian Buffet. Now, fast-casual restaurants are helping to drive interest in Indian food mash-ups. Today's focus on "fresh" gets rid of the idea of steam tables. Open concepts and visual cues help diners rethink Indian food. When restaurants offer Indian street food, with its delicious smells, prepared in an open kitchen with fresh ingredients, guests are hooked. A few changes in dish names, such as Keema Pav becoming an Indian Sloppy Joe, and even the pickiest of eaters are giving Indian a try!
Eat well.
The post For the Love of Indian Food appeared first on Menu Innovator.
Tony Lagana
Chef Tony is a 42-year veteran of the food industry and is often known by his peers as "The New Product Guru." Throughout his illustrious culinary career, he's earned several notable titles and positions including Acquisition International's "Most Influential Product Development Expert, U.S." in 2019.
In 1997, Tony also founded Culinary Systems Inc., a group of culinary consultants that assist with culinary training, restaurant start-ups, concept development, and more. Since then, Tony and his team have generated over two billion dollars in sales for their clients in restaurants, retail, and manufacturing.
The strategic, technical, and culinary skills of Tony and his team can be seen on the menus of national chains, in the portfolio of national food manufacturers, and on the grocery shelves of products produced by major retail companies.