Media Spotlight – Menu Innovator® – Global Techniques for the American Restaurant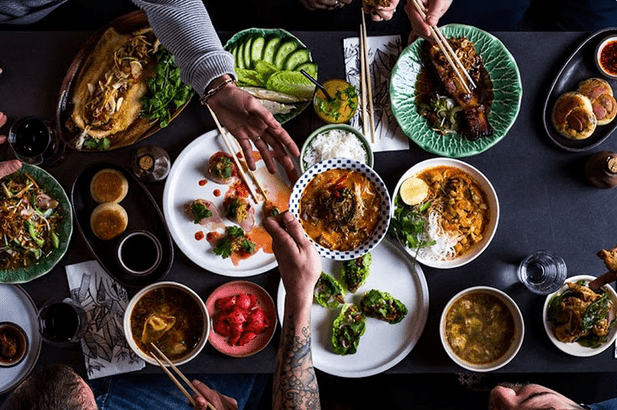 Media Spotlight – A monthly review with the freshest culinary insight! All of our spotlights are inspired by Menu Innovator®. For more information on Menu Innovator®, email tlagana@culinarysystems.com.
Top Cuisines
Mediterranean
Latin
American
Asian
Top Topics
Global Cuisine in the US
Seafood
Vegetables
Beverages
Global Techniques for the American Restaurant
As foodies, most of us want to travel the world – To taste the pastries in Paris, to sample street food throughout Asia, to experience the flavors that are Latin America. Some of us get to do just that. Whether business trips or vacations take us abroad, we all try to find ourselves as guests at a foreign table. This quality that once made us unique and gave us great stories to tell our friends at the neighborhood barbecue has trickled into our nations restaurants. The demands for ethnic foods continue as Americans of all backgrounds discover more exotic flavors and innovative combinations. Millennials are especially looking for something different focusing on specialty and global cuisines. And there is no faking this international trend: Authenticity and traditional ingredients are a requirement.
Asian Techniques
Chefs like Robert Compagnon and his Taiwanese chef wife are blending French food with Japanese sensibility. They showcase Japanese techniques and binchotan (a charcoal that has no flame or smoke but gets very hot) grilling and apply them to French ingredients. Imagine dishes like their grilled husk cherries served over vanilla ice cream. The binchotan tradition highlights these simple ingredients, adding a flavor complexity that diners crave.
Latin Methods
Only Mexico has a greater Hispanic population than the USA, with roughly 55 million living in North America. According to Prepared Foods magazine, that number is expected to double in about 30 years. "Mexican is the new Italian" says Chef Johnny Hernandez of La Gloria in San Antonio. Like those found in Oaxaca City, Mexico, restaurants duplicate freshly made tortillas from masa dough are cooked on the charcoal heated surface of a clay comal (griddle).
These are just a few of many global techniques that have been passed from generation to generation all over the world. While not all of us have the luxury to visit these foreign places, these simple traditions in our local restaurants give us the feeling of being abroad, even if just for a moment.
Eat Well.
The post Global Techniques for the American Restaurant appeared first on Menu Innovator.
Tony Lagana
Chef Tony is a 42-year veteran of the food industry and is often known by his peers as "The New Product Guru." Throughout his illustrious culinary career, he's earned several notable titles and positions including Acquisition International's "Most Influential Product Development Expert, U.S." in 2019.
In 1997, Tony also founded Culinary Systems Inc., a group of culinary consultants that assist with culinary training, restaurant start-ups, concept development, and more. Since then, Tony and his team have generated over two billion dollars in sales for their clients in restaurants, retail, and manufacturing.
The strategic, technical, and culinary skills of Tony and his team can be seen on the menus of national chains, in the portfolio of national food manufacturers, and on the grocery shelves of products produced by major retail companies.