It's All About the Kids
Kids' meals are more important than ever for parents and restaurant operators alike. For restaurants, getting families with children at the door is a way to grow revenue.   In this multi-cultural society, parents are concerned about the nutritional health of their children. Offering a wider variety of healthy and varied food options helps to draw families into dining establishments. Many restaurants are going beyond chicken fingers and fries, offering smaller versions of adult meals.  It used to be that restaurants had to please moms to attract families. But today, it is all about the kids. They are extremely influential in deciding where families will eat. According to the latest research from Port Washington, N.Y.-based NPD, kids begin making their own decisions about what to order at restaurants across all segments, starting as young as age five. Additionally, nearly 50 percent of children order their meals.
Adventurous Kids
As the American palate continues to become more adventurous, children's menus are evolving in sophistication and customization. Hiding kids' meals in the corner of the menu as a second thought do not appeal to young diners or their parents. Our kids are maturing faster today and looking for meals beyond mac and cheese with carrot sticks on the side.  Barbecue ribs, sushi, tacos, peel and eat shrimp, mini sub sandwiches, and ethnic dishes served in smaller portions are becoming more common on children's menus. Parents can come out, have a drink of their choice, and enjoy eating with their kids. 
Restaurants Recognize a Need for Change in Kid's Menus
 "Allowing kids to eat like regular people is a good step to getting them to eat healthier and think about these things differently. So, we serve them something a little different that won't freak them out. At Southbound, that means fish and chips using local fish. Pasta is a big hit too. Currently, there's one pasta with a kale and collard green pesto and another with a Victory Farms tomato sauce and handmade orecchiette. We focus on what we normally do with local products, but allow that to translate into the children's menu," – Joe Sparrata, Southbound, Richmond, VA.
The Sophistication of The Children's Menu
At Blue Smoke in New York, Kids under 10 years old can choose from a menu featuring a choice of the main dish, such as dry-rubbed smoked chicken or chopped pork shoulder; aside, such as pork and beans or collard greens; a dessert and a drink for $15. "We love having kids join us in the restaurant. We know that it's important, especially for the parents, to keep the kids occupied and quickly put food in front of them. For us, it's all about keeping the kids happy so that mom and dad can also enjoy themselves without all the chaos." general manager Jason Gore Blue Smoke. Keep the innovation pipeline going for children as well as adults. One of the great fringe benefits of our multiethnic, multicultural society today is the exposure our kids are getting to new and exciting flavors that were foreign to most young Americans in the past decade. With this said, there is no longer any need for an Asian or Mexican themed restaurant to try offering a kid's menu of hot dogs, grilled cheese, and peanut butter and jelly sandwiches. Kids today are much more interested in exploring authentic and unusual flavors, and operators can capitalize on this trend with some interesting explorations of their own.
Today, An at Home Focus on Children's Menus
Today, with the coronavirus keeping families at home, kids' meals and meal kits appeal to children who now can still have their favorite meals, sometimes free, delivered. Make your pizza, tacos, pancakes, and even decorate your donuts kits to keep children busy creating and learning about food preparation. The Brothers Sushi in Woodland Hills, California, is offering DIY hand roll kits for families. They include nori, sushi rice, and seven kinds of fish (including toro, bluefin, and yellowtail).
Give the People What They Really Want!
Consumers are missing the foods they crave but cannot make at home. As restaurants are beginning to open from the pandemic with limited inside and outside seating, families can begin to enjoy the psychological benefit of sitting down to a meal together and relaxing. Restaurants will continue to bring family and friends together.
Want more detailed information? Our media bites are inspired by our Menu Innovator System of Culinary Intelligence for new product development. Visit menuinnovator.com or email us at info@menuinnovator.com
Eat Well,
Susanne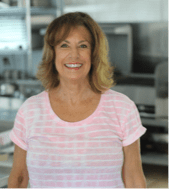 Susanne Bukey
After graduating from Framingham State College with a B.S. in Home Economics, Susanne worked in Product Development for Ground Round Restaurants, then restaurant consulting in the Boston area. Susanne worked on public relations, new concepts, and promotional menu development for Darden restaurants prior to joining the team. Susanne's current focus is on print media analysis and overseeing the editorial staff for online communications.