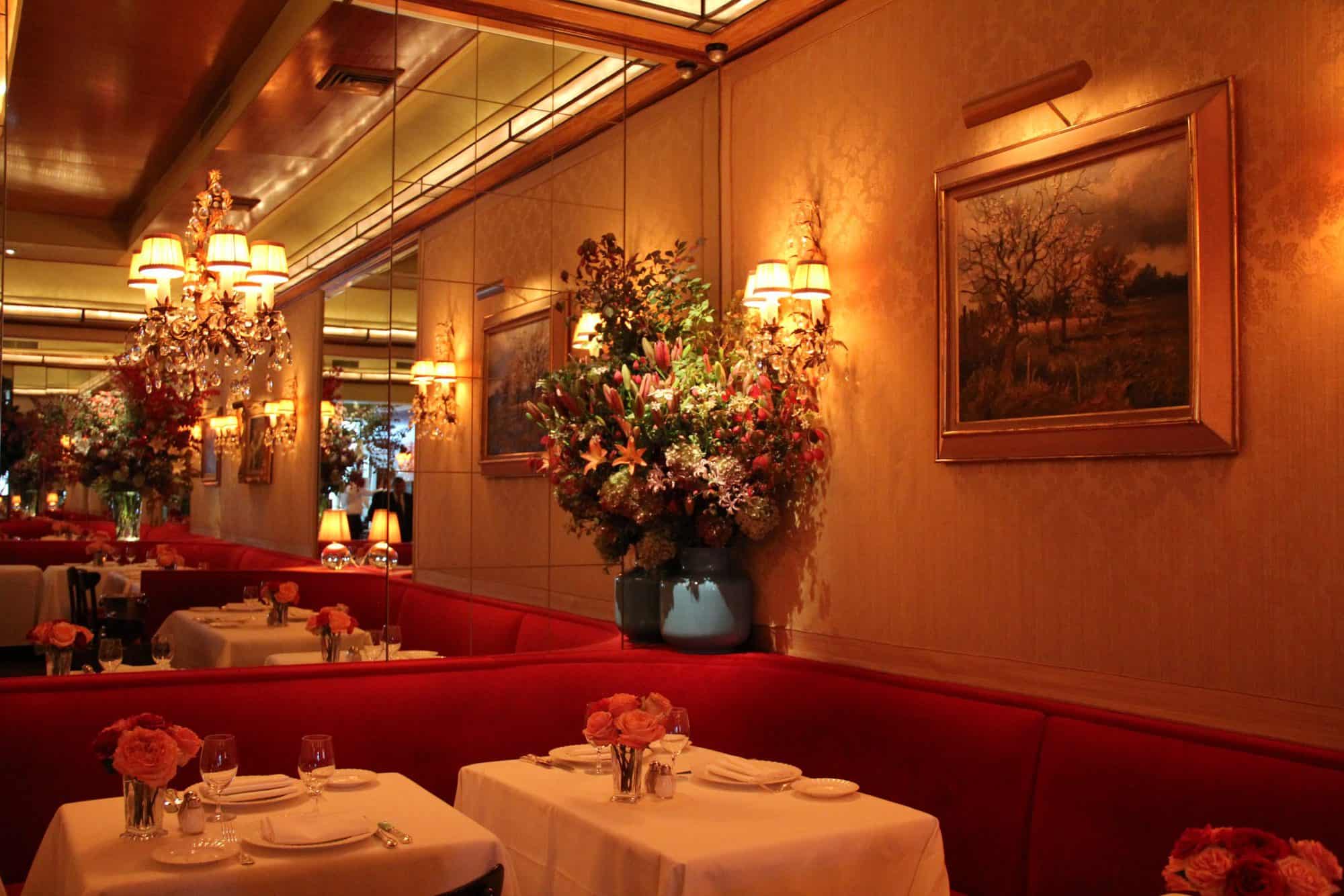 No other restaurant in New York captures the glamourous aura of France like La Grenouille. In business since the early 1960's, La Grenouille is famous for its delicious French cuisine and its fresh flowers delivered daily. Founded in 1962 by the Masson family, the restaurant has hosted numerous celebrities. Upstairs above La Grenouile, Antoine de St. Exupery wrote parts of "The Little Prince." Its history is unique and its cuisine is classic.
Dinner can be ordered prix fixe or ala carte. The choices of flavors are varied. You may want to start with a Traditional Beet Borscht with Cabbage and Dill or Foie Gras Ravioli with Duck Consomme and Chervil. Smoked Salmon Blinis with Caviar and topped with Crème Fraiche and served with a Shot of Vodka. Duck Cassoulet with Foie Gras, Sausage, Coco Beans and a sauce with a hint of Rosemary is a blend of exquisite tastes. Grilled Dover Sole is served with a Mustard Hollandaise Sauce. For dessert, you will want to save room for Le Mont Blanc Glace with is a traditional rum, chestnut dessert with meringue or the Crepes which are flambeed with fresh oranges, candied lemon and Kirsch Liqueur. No matter what you choose, La Grenouille is a wonderful occasion so dress up and bring your appetite to this beautiful restaurant.
Forbes, 4 Star

AAA, 4 Diamond

Zagat

Gayot

Argot Top 100
Website: www.la-grenouille.com
Phone: 212-752-1495
The post La Grenouille, New York, NY (French) appeared first on Menu Innovator.
Tony Lagana
Chef Tony is a 42-year veteran of the food industry and is often known by his peers as "The New Product Guru." Throughout his illustrious culinary career, he's earned several notable titles and positions including Acquisition International's "Most Influential Product Development Expert, U.S." in 2019.
In 1997, Tony also founded Culinary Systems Inc., a group of culinary consultants that assist with culinary training, restaurant start-ups, concept development, and more. Since then, Tony and his team have generated over two billion dollars in sales for their clients in restaurants, retail, and manufacturing.
The strategic, technical, and culinary skills of Tony and his team can be seen on the menus of national chains, in the portfolio of national food manufacturers, and on the grocery shelves of products produced by major retail companies.