If you have not had the amazing experience of entering the Menu Innovator website, now is the time. Menu Innovator https://menuinnovator.com provides a detailed menu analysis evaluating hundreds of restaurants and products. The goal of Menu Innovator is to provide unbiased culinary data, and market trends to assist foodservice operators and chefs in innovating new food strategies, therefore, setting the stage for widespread and sustainable product success. From hotel and fine dining restaurants to country club catering, to nationwide chains, Menu Innovator assists chefs from any cuisine to stay on top of the competition. It also provides media spotlights, industry news, culinary reports, and more to assist chefs and food scientists in their food product development journey.
Staying On Top of The Competition
To stay on top of the competition you must know who the competition is. As a result, Menu Innovator uses an exclusive algorithm to determine only the chefs and restaurants that impact the way we eat. These restaurants are known in Menu Innovator as, the Top 100.  These top spots are signified by Platinum, Gold, Silver, and Bronze medals. The Top 100 also consists of ten restaurants from each of the cuisines Menu Innovator, delves into New American, French, Eclectic, Latin, Italian, Mediterranean, Asian, Seafood, Steakhouse, and Southern.
Reviews of these restaurants and locations are also provided. Restaurants and chefs accumulate points to qualify for the top ten in their cuisine. Additionally, award levels are based on a quantitative measure of over twenty touchpoints in the marketplace covering multiple aspects of a chef and restaurant's national influence. The Menu Innovator staff reviews 400 to 500 menus each year and only 100 qualify. Just being included in Innovator's Top 100 guide is quite an accomplishment. 
Determine the Trends Today
In accumulating points for qualifying for the Top 100 restaurants, areas of consideration include articles in national food-related magazines, articles in magazines and newspapers in the chefs/restaurants surrounding area, cookbooks chefs have written, previous but current awards given to restaurants and chefs, ratings in reviews such as Zagat, Michelin, AAA, and others, and food network television shows chefs have participated in. This is quite the detailed list of touchpoints for the Menu Innovator staff to review. The outcome is the best of the best chefs and restaurants for determining the current culinary information. Likewise, it predicts the technological trends of today.
In the Menu Innovator study, participants can narrow down the choices of restaurants they may want to review. Users can select the year of preference and the cuisine of choice. They can also choose the medal they wish to see and the state of choice. The Top 100 restaurants of the year are only one of Menu Innovator's services to its' subscribers. Begin your culinary discovery today.
Eat Well,
Susanne Bukey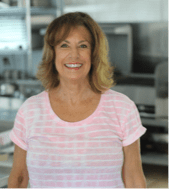 Susanne Bukey
After graduating from Framingham State College with a B.S. in Home Economics, Susanne worked in Product Development for Ground Round Restaurants, then restaurant consulting in the Boston area. Susanne worked on public relations, new concepts, and promotional menu development for Darden restaurants prior to joining the team. Susanne's current focus is on print media analysis and overseeing the editorial staff for online communications.