Restaurants are reducing their menus to streamline their operations during the current, ongoing coronavirus pandemic.  Trimming menus is a way to reduce restaurant complexities, costs, and help when ingredients are difficult to get. This also highlights simpler, more popular items helping to keep the brands' identity when conserving money, and reducing waste are imperative for operators. As establishments reopen, a smaller menu makes it easier to train new staff to understand the menu system.
Restaurants Streamline
Denny's Restaurant removed dishes like the Sizzlin' Supreme Skillet, Choconana Pancakes, Spicy Sriracha Burger, Fit Slam, and Slow-Cooked Pot Roast from the menu. "When we realized the effects of the pandemic, we quickly mobilized to create a new streamlined menu," said John Dillon, Denny's chief brand officer.
IHOP used to have a 12-page menu. Today guests receive a 2-page disposable menu. Lesser ordered, more complicated items were removed from the menu. To keep guests happy, items removed can be replaced with something similar or replicated with a create your own section. Simple and Fit Omelet was made with egg whites and spinach. While the specific dish is no longer on the menu, customers can build their own omelet using the same ingredients. 
Innovation Stays Alive
As menus become smaller, it's important to keep innovation alive and new menu development. Highlighting favorites, and familiar foods gives chefs an option to try new flavors, and toppings, providing guests with something new to try, and staff something to talk to customers about. For example, hamburgers are one of America's favorite foods. By adding different seasonings, toppings, sauces, and/or condiments the familiar favorite has a new twist. Spices already in a restaurant's pantry can be combined to create flavors that follow global food trends with Argentinian, Indian, Asian, and Middle Eastern spice blends. Asian cuisine has become part of many Americans' palate preferences. Preparing Asian foods can require ingredients not usually standard in some restaurants. Many restaurants do have ginger and garlic spice, sriracha hot sauce, and slaw produce. Why not create an Asian burger seasoned with ginger, and garlic, topped with sriracha aioli and slaw? 
Hospital Foodservice
Reducing menu items during this time is also important for larger foodservice operations such as hospitals and cafeterias. Preparing menus that accommodate most diet types helps to reduce production complexity, time, and stress. There will still need to be a variation of food items in the menu system for diets needing nutritional modifications due to illness, and allergies.  Also, simplified menus allow for timely menu production and delivery of trays with limited staff. With the increase of COVID 19 patients, having easy to prepare items supports producing meals and feeding all. The main goal is to provide safe, calorie-adequate meals during a patient or resident's stay. 
Alternatives for Reducing Costs and Waste
Many locations are opting to open later in the day to ease operations. For some, this means removing breakfast, a meal declining during covid due to work from home mandates. Adding items with a lower price point to primarily targeting customers financially strapped, can successfully replace more expensive labor-intensive menu offerings in a menu system. Family meals are another way to appeal to households with mom and dad working from home and kids in virtual schools. Introducing family meals can spike interest for new customers now and in the future. Takeout and delivery, once an afterthought for some, is now vital to their survival. Other restaurant operators are reconsidering the menu mix trying to figure how to optimize selection to boost extremely thin margins. 
As the nation slowly begins to open it is important to support each other and our local businesses.
Stay safe and eat well!
Susanne Bukey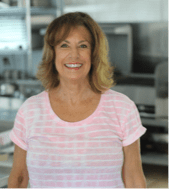 Susanne Bukey
After graduating from Framingham State College with a B.S. in Home Economics, Susanne worked in Product Development for Ground Round Restaurants, then restaurant consulting in the Boston area. Susanne worked on public relations, new concepts, and promotional menu development for Darden restaurants prior to joining the team. Susanne's current focus is on print media analysis and overseeing the editorial staff for online communications.