COVID 19 Takes Its Toll
In 2020, the nation embraced remote work, social distancing, and wearing masks amid the COVID-19 pandemic. The health crisis necessitated massive shifts in American culture. As American businesses, restaurants and consumers were enthusiastically working on programs to reduce waste and carbon footprint, the pandemic put programs on hold placing a strong emphasis on disposable items to stop the spread of the virus. This once again led to an increase in waste products.  For example, a popular salad chain in the United States was producing reusable bowls that saved more than 75,000 pounds of plastic in a year.
When the COVID pandemic hit, the company immediately stopped the program, closed some restaurants, and changed to delivery and pickup which meant using only disposable packaging.  Distribution centers were running out of plastic and paper cups, containers, and plastic flatware. Restaurants closed but takeout and delivery were bigger than ever.
Standing Up for What We Believe
As we begin to reopen businesses, companies are beginning to pick-up their recycling programs that have been pushed to the side. Consumers want to work toward reducing our carbon footprint and support restaurants doing the same. The fast-casual concept Sweetgreen, is taking steps toward becoming carbon neutral. This includes sustainable sourcing for all ingredients. The chain will also use low carbon emission building materials inside its restaurants and is pledging to be "carbon neutral" by 2027. The fast-casual chain partnered with Footprint, a company fighting single-use plastic packaging, to develop a new line of biodegradable bowls that are completely devoid of PFAS.
Everyone Can Help Reduce Waste
Sweetgreen is not the only chain making sustainable efforts. Just Salad recently announced plans to send zero waste to landfills by 2022. Blue Bottle coffee chain aims to divert at least 90 percent of its waste from landfills by the end of this year. Starbucks is also aiming toward using reusable packaging by 2030 reducing its landfill waste by half. Taco Bell is working toward the implementation of PFAS-free sustainable consumer-facing packaging by 2025. Fast-food giants, McDonald's, Chick-fil-A, Subway, and Burger King all have made pledges to reduce single-use and plastic.
The Plastic Poison
The rise in plastics in everything from packaging to single-use products is increasing, not decreasing. This growing stream of waste in our country is greatly damaging our oceans, wildlife, climate and health. Plastic breaks down but it is not biodegradable resulting in toxic chemicals. When delivering takeout orders, third-party delivery companies ask if disposable cutlery is desired. Many restaurants automatically include them in a customer's order only to be thrown out, and never used at home as diners rather use their own metal cutlery. Habits of Waste can assist restaurants with implementing this option.
Businesses such as Upstream Solutions and Parley for Oceans, are two companies (there are others), working towards solutions to put people back to work, save businesses money, protect public health, and solve plastic pollution at the same time. Plastic pollution is a problem that affects the whole world.  Additionally, companies are using recycled plastic for products from sunglasses running shoes to skateboards. Some of these companies include Adidas, Patagonia, Bureo, Norton Point, Cliff Bar, and West Paw with many joining this list every day.
Gardens for Seasonal Foods
In addition, farm-to-table has become the ultimate food movement with zero-waste the ultimate goal. Some restaurants are growing their produce on their roof, in raised beds, in recycled tires, and in aeroponic towers giving way to fresh, delicious, and truly local products for fresh, seasonal cuisine. Waste is used for other foods for example spent oat grain in muffins. Food compost can be given to local farmers to feed animals helping the environment and the farmer.
Many of us assume the chemicals and materials used in making packaging are safe. As "reality strikes," most single-use packaging contains chemicals proven to negatively impact our health. From packaging to foods, single-use is the way to go for the environment. Reuse beats single-use across any "household." 
Eat Well,
Susanne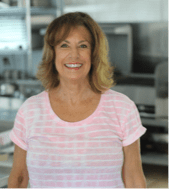 Susanne Bukey
After graduating from Framingham State College with a B.S. in Home Economics, Susanne worked in Product Development for Ground Round Restaurants, then restaurant consulting in the Boston area. Susanne worked on public relations, new concepts, and promotional menu development for Darden restaurants prior to joining the team. Susanne's current focus is on print media analysis and overseeing the editorial staff for online communications.