The growth of beverages today is astonishing as tastes and categories only expand. Waters with flavors and antioxidants, sports drinks, freshly squeezed juices, alcoholic beverages and non, coffees, and teas from around the world, all continue to intrigue us. The rise of functional, and healthy beverage consumption is staggering. Low, and no alcohol drinks especially seltzers, continue to rise in cans, which are more convenient, and safer as we are still very much aware of COVID-19. New product developments, food trends, chefs' creativity, and packaging innovation lead the way to a global array of new beverage products.
Beverages for the Health Conscious
The beverage industry is expanding to offer more products catering to the health-conscious consumer. COVID-19 is still amongst us and beverages with added immune boosters are gaining new fans. With the postponement of recreational and professional team sports, the consumption of sports drinks has moved from the field into the home. 
As more gyms open, the public is looking for beverage solutions that support general wellness. This includes reducing stress, healthy weight management, acknowledgment of label-friendly preferences, convenience, and most of all great taste! Sugar too is a concern as consumers want to be reduced, or no sugar drinks sweetened with only natural sweeteners such as monk fruit, and allulose. Increased awareness on the importance of fueling our bodies with quality, nutritious food, and drink, is driving rapid growth in fermented beverages, which now occupy a significant portion in the functional, and healthy drinks category.
As with our "New Year's Resolutions", the Olympics gets many of us on the healthy bandwagon. Ultra-fit athletes inspire us to exercise more and to eat and stay healthy.  This year's Games of the XXXII Olympiad offers a great opportunity for sports nutrition brands to promote their products. These beverages include nutrients and ingredients that help build strength for competition as well as everyday living. Protein remains extremely popular in these products, but moreover, that protein comes from plants. The sports nutrition market was worth $15.6 billion in 2020. It is estimated to nearly double, reaching $31 billion by the end of 2025.
Hard Seltzer
Hard seltzer is one of the fastest-growing beverage trends today. The beverage appeals to customers looking for lower-calorie alcoholic beverages that still deliver big flavor, carbonation, and refreshment. The rising concerns of health and wellness along with the rising level of alcohol consumption in America (shortly after the low- and no- alcohol movement), makes seltzers a hot commodity. Beer brands are also introducing non-alcoholic seltzer with CBD or THC as an ingredient.
Making a mixed beverage with seltzer is as simple as adding flavored ice or adding hard seltzer as one of the ingredients. It can be difficult to tell hard seltzers apart, but they are not all created equal. Some brands prefer real fruit juice or organic ingredients, while other brands look to cocktails or exotic fruits for flavorful inspiration. Corona's 90-calorie hard seltzer is one of the best. It contains zero carbs and sugar and is available in tropical flavors like Mango and Tropical Lime.
Mocktails
Mocktails are cocktails containing no alcohol. With the search for healthy beverages, the trend of mocktails offers an opportunity for mixologists to show their creative non-alcoholic side. No more Shirley Temples for the teetotaler. Today's non-alcoholic drink is likely to contain herbal infusions, fresh-pressed juices, and global flavors. For example, a Rosemary and Cucumber Infused Ginger Beer is refreshing and best when made with local ingredients. There is no need to sacrifice flavor to enjoy "vacation-style beverages". A good nonalcoholic beverage tastes and looks like a cocktail. It is made with as much skill as an alcoholic beverage. Zero-proof drinks are ready to party!
Fun in the Sun
Besides perfected coffees, teas, and smoothies, consumers want fun beverages. Kids love bright colors and frozen beverages. Adults love retro food reconfigured into beverages, energy slushies, and seasonal coffee creations. The Sonic chain is offering cool, "sippable" fun drinks for summer promotion. Red Bull slush is offered in dragon fruit flavor. The chain is adding new menu items. Items such as the extremely popular Asian-inspired bursting boba beads as an ingredient to their drink menu. Other new dessert-like drinks, such as their new Banana Pudding Shake and Cheesecake Blasts, will be available for a limited time this summer.
Tea and Coffee
Tea fans are discovering Thai tea. The tea has the overtone with the younger generation of a trendy, specialty beverage from Asia. "Thai tea joins the ranks of Vietnamese iced coffee, Dalgona coffee, and milk tea, making it a flavor system with credibility among young consumers." Katie Ayoub, managing editor Flavor & the Menu, p. 104, Top 10 Trends 2021. In the coffee industry, consumers are wanting greater transparency along supply chains and are willing to pay higher prices for ethically and environmentally sourced products. More than half of all coffee consumption in the United States includes specialty beverages like espresso, cappuccino, iced/cold brew coffee, and lattes at premium prices. Mushroom coffee, caffeine-free and full of antioxidants are available in markets, and matcha lattes have become common. The most dedicated coffee shops offer blends that increase gut health, boost metabolism, and/or support the immune system.
The Last Drop
As the pandemic moves toward its' end, and we look forward to the "new normal", lets' all raise a glass to good health and prosperity to our country, and the world. Who knows whether the drinking habits developed in a COVID-19 era will remain in a post-pandemic world? With so much uncertainty, what is clear is that the increasing consumer interest in health, wellness, and mindfulness is shaping the beverage industry as we seek to quench this thirst for holistic balance.
Eat Well and Cheers,
Susanne Bukey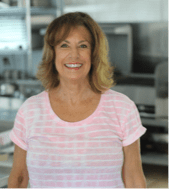 Susanne Bukey
After graduating from Framingham State College with a B.S. in Home Economics, Susanne worked in Product Development for Ground Round Restaurants, then restaurant consulting in the Boston area. Susanne worked on public relations, new concepts, and promotional menu development for Darden restaurants prior to joining the team. Susanne's current focus is on print media analysis and overseeing the editorial staff for online communications.