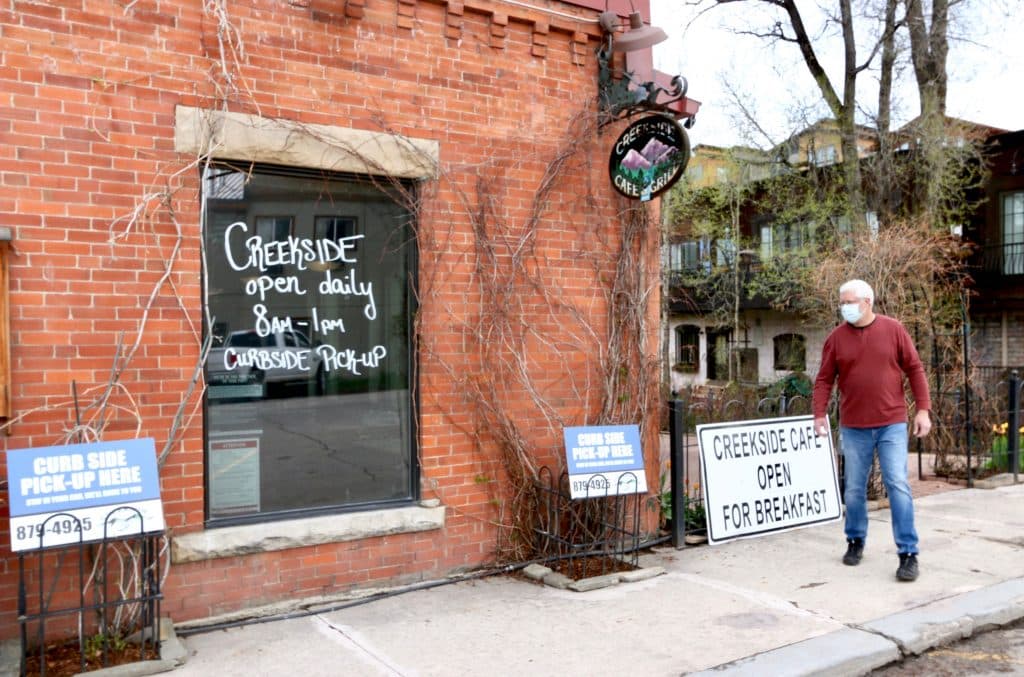 Our daily routines in America have changed radically as the COVID-19 pandemic has invaded our cities and towns. It seemed as if overnight our lives have been turned upside down. Every state has enacted some type of stay at home policy closing schools, non-essential businesses, restaurants, and bars. Social distancing has become the norm eliminating stops at the morning coffee shop to relaxing lunch and dinner dine-in meals. Restaurants were forced to close dining rooms and only serve meals through takeout and delivery platforms. In a period of about four weeks, more than 20 million people found themselves out of work, putting new pressure household finances. Restaurant Hospitality, April 23, 2020
Restaurants changed their menus overnight offering delivery friendly foods and family meal packages to cook at home. Chef Arron Deal of The River and Rail in Roanoke Virginia started selling uncooked meat and smoking pork loins for guests to cook for themselves. He works with a local coffee roaster to recharge his brunch options. River and Rail became the drop-off point for local community supported agriculture, a type of subscription service for local produce.
Being stuck in our homes worrying about catching and spreading COVID-19, comfort food has become king. Hearty, classic foods are what consumers are craving today slow-cooked meats, casseroles, pizza, grilled sandwiches, and home-baked desserts all smell and taste delicious and comfort us. Consumers loaded up on pantry and refrigerated foods when the pandemic began. However, we do get tired of cooking. Our beloved pizza is in top form for delivery.
Some restaurants are posting cooking demonstrations and recipe videos showing how to create signature cocktails or menu items at home. Other establishments are offering DIY meal kits to make it even easier to prepare the restaurant's signature items at home. Meal kits for special occasions such as holidays, birthdays, Mother's Day, and Father's Day allow guests to stay in touch and enjoy their favorite foods.
Most consumers are purchasing meals from drive-thru and pick-up. Younger consumers are mainly driving delivery growth. Delivery services are on the increase through the third party though, many provide delivery using their own staff. This can be cheaper for restaurants and keep staff members employed. Besides delivery and takeout options for meals, some restaurants are offering grocery shopping and consumers are interested in obtaining grocery items from restaurants. Bakery products, fresh produce, meats, seafood, deli, and cured meats and dairy items are products restaurants regularly have on hand.
Some supermarket chains are supporting local restaurants by purchasing meals for their employees. For example, Supercenter operator Meijer has started its "Buy Local" program. The program enables each of Meijer's 248 supercenters, grocery stores, and distribution centers to partner with an independent restaurant in its area to buy meals for its workers. Based in Grand Rapids, Michigan the retailer said, "Our teams are working hard every day to ensure our stores are clean and fully stocked so our customers can find what they need for their families. "This initiative is just one of the ways we are trying to show them just how much we appreciate their dedication, while also providing an opportunity to support important small businesses in the communities we serve." Meijer President and CEO Rick Keyes
Moving guests safely through drive-thru lanes have helped to sustain operations for many restaurants during the virus crisis. The Del Taco chain in California is an example. Throughout the pandemic, the chain has been using app promotions to shift diners to contactless digital ordering. A "10 tacos for $4.20 promotion" on April 20 logged a brand record for app redemptions. Wingstop Inc.'s same-store sales increased more than 30% in the first four weeks of April as the chicken-wing brand shifted to off-premise sales promoted with a free delivery offer online through DoorDash. Nation's Restaurant News online, May 5, 2020
The risk of contracting COVID-19 might diminish as the curve bends downward but there is still a legal risk. Lawyers already have filed lawsuits for clients against companies claiming they were negligent in failing to protect customers from coronavirus. To limit the likelihood of such lawsuits, restaurant operators should understand those legal risks and consider ways to reduce them. Know the specific requirements issued for your state to open restaurants.
Reopening is no easy task. Guests are excited to see their favorite wine and dine establishments beginning to open. However, along with that excitement is fear, and uncertainty. As dining rooms begin to open, guests will expect to see sanitary operations in place. Continued wiping down of tables, kiosks, door handles, railings and bathrooms are a constant. Provide disinfectant wipes for guests. Employees should wear masks and gloves. Keep sick employees at home. Be sure there is adequate space between tables. Consumers always want good taste from the food they order but cleanliness is now a top requisite.
Brands are learning quickly that consumers want a variety of contactless options available to them to pick up their food orders. Drive through lanes, curbside pickup and pop-up drive up lanes in parking lots, allow for completely contactless pick-up for consumers. "This crisis is really accelerating the future. We will move much faster now. And we will be able to move faster because that is what the consumer is demanding, a seamless, contactless experience," Mark King, CEO, Taco Bell
It is time to recognize that things are never going back to normal following COVID-19. This is a time to try new procedures, operations, and food items. Restaurants need to look for ways to change and execute quickly not just survive but to thrive!
The post The COVID-19 Virus, Survive and Thrive appeared first on Menu Innovator.
Tony Lagana
Chef Tony is a 42-year veteran of the food industry and is often known by his peers as "The New Product Guru." Throughout his illustrious culinary career, he's earned several notable titles and positions including Acquisition International's "Most Influential Product Development Expert, U.S." in 2019.
In 1997, Tony also founded Culinary Systems Inc., a group of culinary consultants that assist with culinary training, restaurant start-ups, concept development, and more. Since then, Tony and his team have generated over two billion dollars in sales for their clients in restaurants, retail, and manufacturing.
The strategic, technical, and culinary skills of Tony and his team can be seen on the menus of national chains, in the portfolio of national food manufacturers, and on the grocery shelves of products produced by major retail companies.