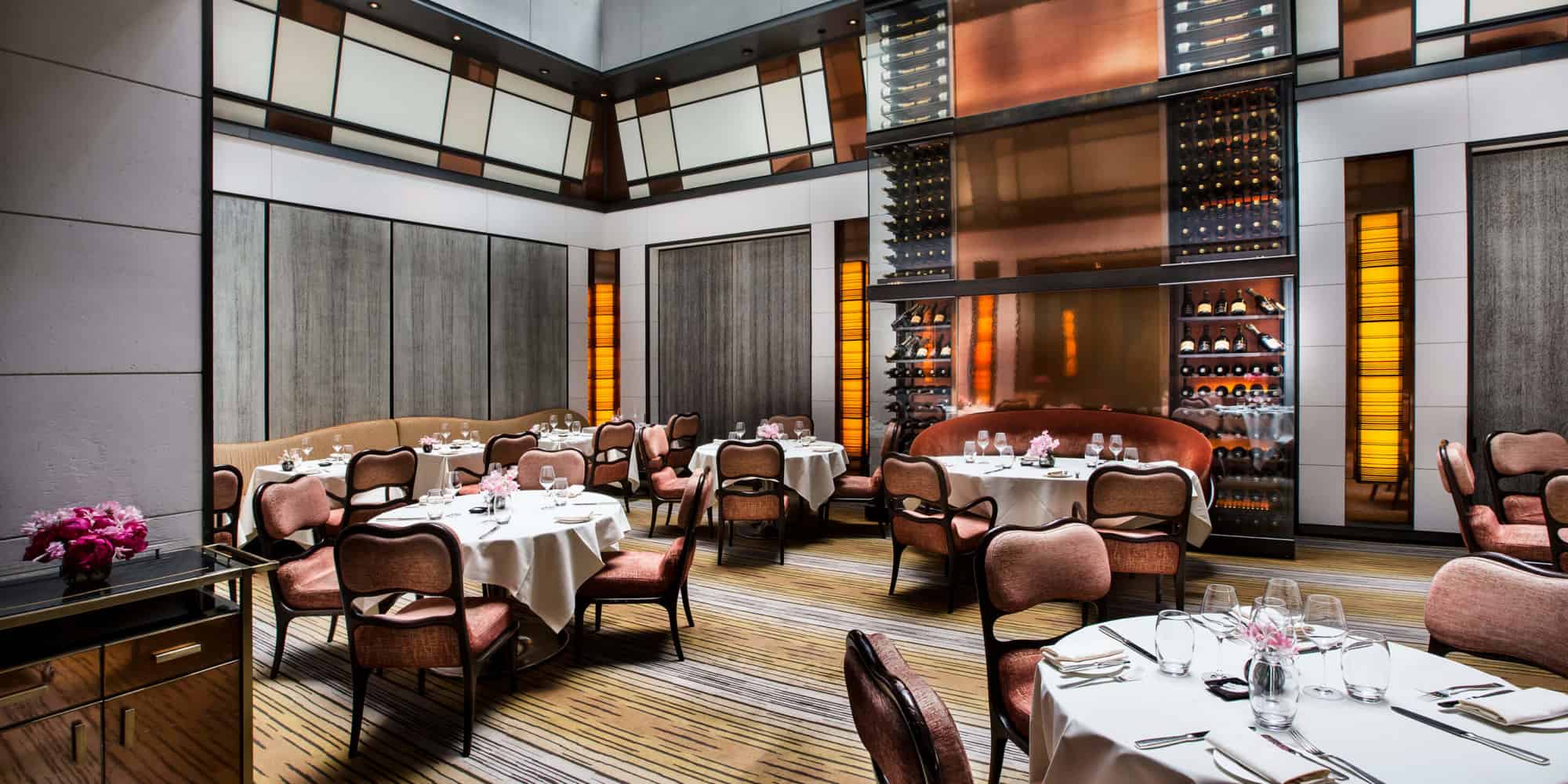 Regarding Chef Jean-Georges Vongerichten, the New York Times writes "No chef working in America is quite his equal. Many, like him, have created multiple restaurants. A very few, like him, are considered among the best. Even fewer are both. Mr. Vongerichten is able to do more, and he is able to do it better, his style augmented by extraordinary open-mindedness, a willingness to embrace the local culture wherever he might be." (New York Times, January 14, 2020, "How Jean-Georges Vongerichten Went From 'No Good Kid' To 4 Star Chef"). The restaurant is described as elegant, satisfying and presents a luxurious ambiance.
The Mark is housed in the storied, landmark "The Mark Hotel" in New York. It was recently remodeled and demonstrates Jean-Georges passion for fresh-from-the-market, simple cooking. Yet the menu offerings are truly eclectic. Appetizer choices include Butternut Squash Soup, Spiced Chicken Samosas or Norwegian Smoked Salmon. The Crispy Sushi provides a flavorful texture twist to a great dish. European classics such as Grilled Black Sea Bass or Fresh Fettucine or Roasted Maine Lobster provide flavorful choices to suit a variety of tastes. The portions are plenty, you will want to finish off with the Salted Caramel Sundae with Candied Popcorn Peanuts and Fudge Sauce or the Grand Marnier and Chocolate Chip Souffle.
James Beard Award, 1998, 2009, 2010, 2011
Gayot, Best Restaurateur Award, 2016
Website: www.themarkrestaurantnyc.com
Phone: 212-606-3030
The post The Mark, New York, NY (Eclectic) appeared first on Menu Innovator.
Tony Lagana
Chef Tony is a 42-year veteran of the food industry and is often known by his peers as "The New Product Guru." Throughout his illustrious culinary career, he's earned several notable titles and positions including Acquisition International's "Most Influential Product Development Expert, U.S." in 2019.
In 1997, Tony also founded Culinary Systems Inc., a group of culinary consultants that assist with culinary training, restaurant start-ups, concept development, and more. Since then, Tony and his team have generated over two billion dollars in sales for their clients in restaurants, retail, and manufacturing.
The strategic, technical, and culinary skills of Tony and his team can be seen on the menus of national chains, in the portfolio of national food manufacturers, and on the grocery shelves of products produced by major retail companies.