Appetizers, foods, and beverages stimulating our appetites for what's to come, have revolutionized the way we dine out. They offer new and trendy flavors, ingredients, and presentations. Today, appetizers are not just the beginning of a meal. They can be a meal in themselves or shareable to be enjoyed with friends any time of the day. These beginnings are a perfect fit with today's most important lifestyle trends, the downsizing of portions and prices, sharing and sampling, and on-the-go eating. With ethnic and regional street food in demand today, appetizers can offer small portions of these crave-able foods.
This is a wonderful way for chefs to test new and attention-grabbing flavors with their guests while increasing overall sales. These flavors can be served on new or familiar favorites as a sauce or condiment like kombucha/sriracha ketchup, or as a new ethnic mashup as chef Jonathan Shepard, of Wildflower at the Grey Fox Inn in Stowe Vermont has created. Chef Shepard dresses Spanish octopus in Korean ssam sauce and serves it as a bao for an appetizer. Chef Sujan Sarkar of Baar Baar in New York City takes chicken roasted in a tandoor and puts it in mac & cheese.
Seasonal Foods
Take advantage of seasonal foods when planning a menu of culinary beginnings. Watermelon is a summer favorite, juicy and sweet. It's perfect for beverages like watermelon coolers and margaritas. Watermelon salsas, Caprese, gazpacho, and watermelon Greek Pizza with mint, feta cheese, oregano, and Greek olives make great shareables. Corn on the cob is available from May through September.  Create a street corn dip with fresh kernels of corn, green onion, creamy cheeses, lime, and chili peppers. 
Traditional appetizer favorites like chicken fingers, garlic bread, and potato skins are down in sales and in menu mentions. They have been for the past four years. This decrease supports the fact that diners' tastes have evolved from basic fried food to new preparations, seasonings, ethnic, and regional foods. Recognizing diners' desire for new tastes, chefs also are revamping the classic appetizers. Considering the classic, French fries are getting a facelift as the shareable finger food plate, poutine.
As part of the poutine craze, operators are using fries to deliver the ethnic flavors that consumers crave. Consider a Greek version or a Texas poutine with pulled, smoked pork and hot peppers as ingredients. Veggie Grill, based in Culver City, California, dressed up its crispy fries last year with promotional Kung Fu Fries. Kung Fu crumbles made from meat-free Gardein, Kung Pao sauce, and pickled Fresno chiles delivered the heat and avocado sauce, a cool balance. Some of today's newer top appetizer menu trends are an octopus, cauliflower everything, street tacos, and vegan foods.
Street Food
Inspired by street foods from Asian countries, the Middle East, the Caribbean, and Latin America, tacos reign as a top food trend. Mexican Taco Al Pastor, (pork) is the big star in the taco world. Seafood seen as a healthy protein is increasing in appetizer preparations. Chefs have gone well beyond the shrimp cocktail to include booming, octopus. Octopus ceviche, grilled, and tacos are just the beginning. This seafood has grown by over 17% in the last four years. According to the latest research from Datassential, plant-forward options such as fried cauliflower, Brussels sprouts, and heirloom tomatoes are fast-growing on appetizer menus. Cauliflower, the king of vegan options poses as boneless buffalo wings, is grilled, served as a hummus, on artisan pizza, as a pizza crust, and Indian appetizer Gobi 65.
There has never been a time for chefs to be so creative in their appetizer development. With restaurants finally opening after the pandemic, diners are eager to get out with good friends and family to try new, shareable foods and small plates. Create and enjoy!
Eat Well,
Susanne Bukey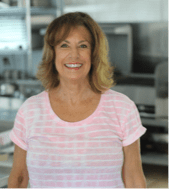 Susanne Bukey
After graduating from Framingham State College with a B.S. in Home Economics, Susanne worked in Product Development for Ground Round Restaurants, then restaurant consulting in the Boston area. Susanne worked on public relations, new concepts, and promotional menu development for Darden restaurants prior to joining the team. Susanne's current focus is on print media analysis and overseeing the editorial staff for online communications.