Cheese is that magnificent food that adds that extra special creaminess, flavor, and rich mouthfeel to about any recipe. It's what makes a meal memorable whether it be the oozing out between two slices of grilled bread, the glorious stretch on pizza, or the extra flavor, and texture on a charcuterie board.  Artisan cheeses are different from cheese that is mass produced in processing plants.
Cheese Classifications
Artisan cheese varieties are made primarily by hand, in small batches, incorporating many of the traditional techniques of the art of cheesemaking. An artisan cheesemaker typically uses no machines and little to no mechanization. This cheese may also use a variety of milk, and flavorings such as herbs, fruits, spices, and nuts. It becomes a specialty cheese when production is limited. However, a specialty cheese does not have to be an artisan. If the cheese is made on a farm with the milk from the farm's herd of cattle, goats, or sheep it can be called a farmstead. Farmstead, like an artisan, is produced in small batches, primarily by hand, with a focus on the traditions of the cheesemaker's art.
Pasteurized milk makes amazing cheese. However, many cheese aficionados feel pasteurization can strip away a cheese's particular character, flavors, and aromas, robbing its uniqueness, and therefore, some prefer raw-milk cheese. The current food trend of raw milk cheese is now becoming more widespread with the gaining of acceptance of raw milk in America.
The World's best in Competition
American artisan cheese has clearly arrived on the world stage successfully competing against European cheese. Rogue River Blue Cheese was named the world's best cheese in 2019 at the 32nd annual World Cheese Awards. (Rogue Creamery's winning entry was sponsored by the U.S. Dairy Export Council's new USA Cheese Guild™.Nov 2, 2019) Murray's Cavemaster Reserve Stockinghall Cheddar won first place in "Best of Show;" Wegmans Food Markets' Professor's Brie won second place, and Shooting Star Creamery's Aries won third.
Value Perception
Consumers are interested in the total value of their food. This is one of the determining factors for 76% of consumers when deciding where to eat out. Artisan cheeses can be used in any daypart adding the perception of a superior product providing overall value. Since the onset of the COVID pandemic with many families quarantined to their homes and cooking, the sale of cheeses at retail establishments increased from 30% to 70%. For many baking was a way to decompress. In fact, the cheesecake was a top 10 most googled recipe in April!
In addition, with the increase in milk, cheese, and yogurt sales in 2020, families see these dairy foods as valuable staples in their homes. They are eaten alone as well in combination from sandwiches to smoothies, and snacks. Nutritionally they provide calcium, vitamin D, protein, and B12, and when fermented, probiotics. This current food trend leaves opportunities for research and development teams to be creative in their future development. 
From the Past to the Future
In the 1800's European immigrant cheesemakers upon coming to our country, found that our fertile dairyland was perfect for producing the high-quality milk required to make the cheeses of their homeland. Settlers from France, Germany, Holland, Italy, Switzerland, and Scandinavia soon began making the cheeses of their home countries. 
In 1845, a band of Swiss immigrants settled in Green County, Wisconsin, and started the manufacturing of foreign cheese in America. Most Wisconsin farmers began to believe that their future survival was tied to cheese. Their first factory was a Limburger plant which opened in 1868. Furthermore, the largest producer of cheese by volume in the world today is the USA. It accounts for 30% of world production, followed by Germany and France. Wisconsin cheesemakers lead our nation in producing artisan cheese. The state's array of awards, over 5,500, speaks for itself. We've come a long way in the art of cheesemaking and continue to innovate!
Eat Well,
Susanne Bukey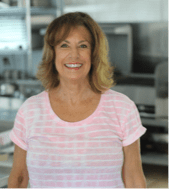 Susanne Bukey
After graduating from Framingham State College with a B.S. in Home Economics, Susanne worked in Product Development for Ground Round Restaurants, then restaurant consulting in the Boston area. Susanne worked on public relations, new concepts, and promotional menu development for Darden restaurants prior to joining the team. Susanne's current focus is on print media analysis and overseeing the editorial staff for online communications.