The closing of restaurants due to the pandemic was permanent for some, others are just beginning to see the light at the end of the tunnel, while others stepped up to help their communities in any way they could. The restaurants that remained open held their own with takeout and delivery. Virtual restaurants began to rapidly increase as consumers were quarantined to their homes.
Many of the establishments that remained opened quickly adapted culinary trends, highlighting their drive-thru, pick-up and delivery capacities, and their commitment to sanitation processes. For many of these concepts, opening new virtual restaurants extended their profits. This virtual increase was not only for chain concepts but for individual restaurants also.
Drive-Thru Lanes
Drive-thru lanes saved many quick service restaurants during this pandemic as indoor dining closed, and consumers became wary of entering any eating establishment. As earnings from drive-thru lanes increased, lanes were expanded and added. Patient customers waited in line to take home meals for their families. Quick service is coming through the pandemic alive and doing very well.
What about fast-casual establishments? The shift to drive-thru ordering has also increased the competition between the fast-food and fast-casual sectors.  Many fast-casual restaurants created previously non-existent, pick-up lines for faster service. While guests waited in line, a taste of the concept is often provided to them. A warm breadstick, crisp tortilla chips, and crispy, glazed bites of Asian chicken calmed nerves and became add-ons. As for vaccinations increase, drive-thru order will most likely go down but not to its previous levels due to the heightened awareness of germs and for some "the discovery of drive-thru."
Automation
With the surge in drive-thru orders, the need for automation has accelerated in implication and development. Some QSR chains have designed new formats that place emphasis on the drive-thru lanes and have downgraded the inside to smaller dining rooms. Others are testing artificial intelligence software to take drive-thru orders faster and more accurately. Still, others inform managers how to staff a restaurant as traffic fluctuates.
As a result, robotic delivery is now becoming a reality as chains are getting into upgraded delivery technology with self-driving cars delivering meals. The latest version includes sensors to detect people, traffic lights, vehicles, and to make decisions on path planning and obstacle avoidance. The robots are also remotely controlled by human supervisors to ensure safety. The average delivery for one chain takes about 30 minutes and costs $1.99, a large contrast to the high fees from third-party delivery companies. Chick-fil-A, Domino's, and Chipotle are quickly venturing into this upgraded delivery technology.
Reward Programs Tailored to Meet Customer Needs
Within the past five years, mobile apps have become a standard for restaurants. Since the COVID pandemic, many have started or broadened their reward programs integrating digital tools, and offers that give customers more personalization, convenience, and more value. Personalized suggestions on what to order, allow for sending customers targeted offers and options to obtain their food through delivery, drive-thru, or curbside.
With all the benefits of mobile apps and loyalty programs, are they right for all restaurants? With the onset of COVID, dine-in orders greatly decreased, and online and phone orders substantially increased. As a result, all customers needed as many virtual, non-contact ways to communicate. However, these programs are expensive and require costly monthly updates. Some establishments feel they are not getting enough return on their investment. Email loyalty programs can be as effective for some restaurants. It can be especially effective for those without the financial power of larger chains, or the infrastructure to maintain the incoming data. Online and mobile ordering can be done easily without an app!
With the pandemic still controlling much of our daily routines, more changes are to come. Some will amplify, and others fall by the wayside. Be safe and help each other.
Eat Well,
Susanne Bukey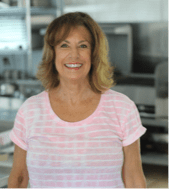 Susanne Bukey
After graduating from Framingham State College with a B.S. in Home Economics, Susanne worked in Product Development for Ground Round Restaurants, then restaurant consulting in the Boston area. Susanne worked on public relations, new concepts, and promotional menu development for Darden restaurants prior to joining the team. Susanne's current focus is on print media analysis and overseeing the editorial staff for online communications.